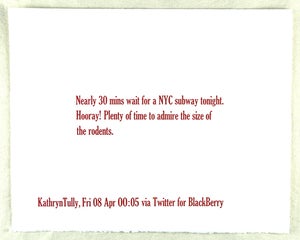 $

85.00
Nearly 30 mins wait for a NYC subway tonight. Hooray! Plenty of time to admire the size of the rodents.
KathrynTully, Fri 08 Apr 00:05 via Twitter for BlackBerry
Edition: 4
Size: 11.25x14"
Pantone: 484C
This is a hand typeset letterpress print in Cheltenham Condensed which is part of a project called "100 Tweets". Cheltenham typeface was designed in 1896 and inspired by the Arts and Crafts Movement. These prints are hand torn on 200g Magnani paper with a deckled edge. Ink may be light sensitive, keep art away from direct light.
The project pays homage to Gerhard Richter's iconic color chart series. One version of "256 Colours" (1974) is in The Museum of Modern Art's collection. Like Richter's series, every color printed in "100 Tweets" was randomly selected, no two are alike.
*There is also one large artwork comprising all 100 tweets. For more information about this piece, please contact the artist.